HCB Solar has completed over 10,000 1 to 5kW residential solar energy systems as well as over 600 x 5kW solar energy systems installations for schools solar programs. View some of our recent projects below.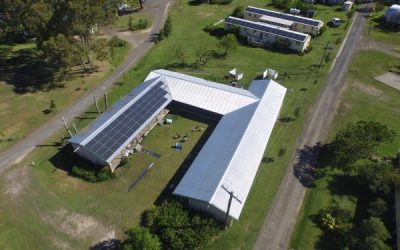 Tahlee Ministries Bible College in Tahlee - 30 kw
Solar System Install
Project Outline
Key Drivers:  Meeting Corporate Sustainability Goals and cost efficiencies.
Key Reasons for Purchasing:  Quality Products with Quality Supplier to Supply, Install and Service.  Also, Client Service and Design were superior and very knowledgeable.
Challenges:  Finding most suitable buildings to install solar panels on, then inverter location, then access to electricity supply.
Consumption and Generation data were required for Education Purposes at the College.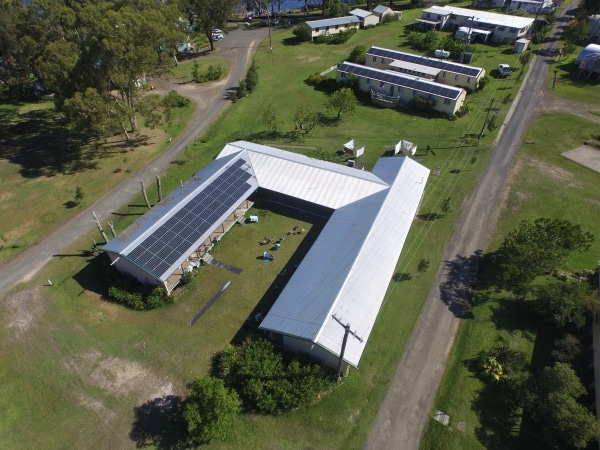 Solutions
Two newer roofs were selected with one north facing and one west facing.  West facing gave afternoon generation to asssit with afternoon peak demand consumption at the college.
Inverters were located on external walls of each building, under the verandah roofs and the electricity supply was connected at the sub distribution board in each building – part of the reason they were chosen.
An SMA Energy Meter and Home Manager were added to the SMA Inverter. This enables any computer at the college to login and access the data about the system's performance at any time.  This was a one time cost with no annual subscription fees or data costs.
Components
| | |
| --- | --- |
| Panels | 60 x LG Mono X 280 Watt and 44 x LG Neon 300W |
| Inverter: | SMA –  1 x 15kw and 1 x 12kw |
| Monitoring: | SMA Energy Meter and Home Manager |
| Solar system peak capacity: | 165kW combined |
| Racking: | Sunlock Commercial Channel Flush for Tin Roof |
Outcome
A quality, high efficiency system that reduces the Colleges' electricity consumption, costs, meets their sustainability goals and provides educational material and data for students.
Details – Generation & Income
| | |
| --- | --- |
| Annual Generation | 41,391 kwh |
| Annual Savings | $5,836 |
| Life Expectancy of System | 25 years |
| Life Expectancy Generation | 1,034,775 |
| Income Life of System |  $81,233 (over and above cost of system) |
Expert advice and free quotes.
Get the most from your solar
OUR PARTNERS
What clients say about us
[show-logos orderby='none' category='0' activeurl='new' style='hgrayscale' interface='hcarousel' tooltip='false' description='false' limit='0' filter='false' carousel='false,4000,false,false,500,10,true,false,true,6,0,1']